Presentation :
The Game Boy Color, referred as GBC, is a handheld game console manufactured by Nintendo. it was released on October 21, 1998 in Japan and was released in November of the same year in International markets. It is the successor of the Game Boy Pocket. The Game Boy Color, as suggested by the name, features a color screen. It is slightly thicker and taller than the Game Boy Pocket, which is a redesigned Game Boy released in 1996. As with the original Game Boy, it has an 8-bit processor and the custom Zilog Z80 central processing unit (CPU).
As part of the fifth generation of gaming (from 1997), the Game Boy Color's primary competitors were the SNK's Neo Geo Pocket and the Bandai's WonderSwan (JDM only), though the Game Boy Color outsold these by a huge margin. The Game Boy and Game Boy Color combined have sold 118.69 million units worldwide. It wasn't discontinued until the release of the Game Boy Advance SP, a redesigned Game Boy Advance in 2003.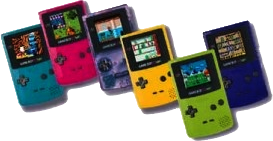 History
The Game Boy Color was a response to pressure from game developers for a new and much more sophisticated system of playing, as they felt that the Game Boy, even in its latest incarnation, the Game Boy Pocket, was insufficient. The resultant product was backward compatible, a first for a handheld system, and leveraged the large library of games and great installed base of the predecessor system. This became a major feature of the Game Boy line, since it allowed each new launch to begin with a significantly larger library than any of its competitors.
Technical Specification :
Main processor : 8-bit Z80 with 2 mode : simple : 4,194304 Mhz and double : 8,388608 MHz
Memory : 32 KB (with 128 KB on cartridge)
Rom : up to 64 Mbit cartridge
Video Memory : 16 KB
Audio : 4 channels FM stereo
Screen : TFT LCD, 160 x 144 pixels made by Sharp
Color : 32 768 colors ; modes 10, 32, or 56 colors on screen simultaneous
Input : directional pad, and buttons : A, B, Select, and Start.
communication : serial or infrared

Serial : 512 Kbit/s
Infrared : less than 2 meters

Battery : 2 LR09