Presentation
The Master System, often called the Sega Master System or SMS, is a third-generation video game console that was manufactured by Sega. It is a redesign of the Sega Mark III released in 1986 in North America, 1987 in Europe (and later in Japan with an FM synthesizer) and 1989 in Brazil.
The Master System could play both cartridges and the credit card-sized "Sega Cards," which retailed for cheaper prices than cartridges but had lower storage capacity. The Master System also featured accessories such as a light gun and 3D glasses which were designed to work with a range of specially coded games.
The Master System was released as a direct competitor to the Nintendo Entertainment System in the third videogame generation in North America. The Master System was technically superior to the NES, which predated its release by nine months in North America, but failed to overturn Nintendo's significant market share advantage in Japan and North America.
In the European, Brazilian and Oceanic markets, this console allowed Sega to outsell Nintendo, due to its wider availability. It enjoyed over a decade of life in those territories and was supported in Europe up until 1996. Up until 1994, it was the console with the largest active installed user base in Western Europe, peaking at 6.25 million units in 1993.
The console was redesigned several times both for marketing purposes and to add features, most notably in Brazil by Tectoy. The later Game Gear is effectively a hand-held Master System, with a few enhancements.
In 2009, the Master System was named the 20th best video game console of all time (out of 25) by the video gaming website IGN, behind both its competitors, the Atari 7800 (ranked 17th best) and the Nintendo Entertainment System (1st). They cited the Master System's small games library, coupled with the highly uneven quality of the few games that were released: "Months could go by between major releases and that made a dud on the Master System feel even more painful."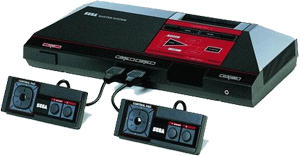 Historique :
In 1987 a redesigned version of the Sega Mark III, using the "Master System" name, was released and featured the addition of a built-in Yamaha YM2413 FM sound chip, a rapid fire unit and 3-D glasses; all of which had been separate accessories for the Mark III. As with the Mark III, the Master System was also backwards compatible with SG-1000 games.
Neither variant posed a serious challenge to Nintendo.
The last licensed title in Japan for this system as well was Bomber Raid.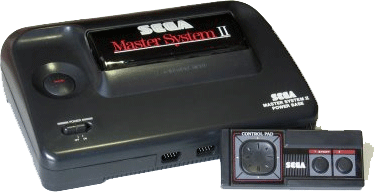 Technical Specification

Main Processor: Zilog Z80 8 bit clocked 3.546893 MHz (PAL/SECAM), 3.579545 MHz (NTSC)
Memory : 64 Kbit (8 Kio)
Rom : 1024 Kbit (128 Kio)
Graphic Processeur: Texas Instruments TMS9918 derived VDP (Video Display Processor)

Video RAM : 128 Kibits (16 Kio)
Colors : Up to 32 simultaneous colors
Resolution : 240x226 pixels

SOund Processor : Texas Instruments SN76489 4 channel (mono)

3 sound generator, 1 noise generator.