Präsentation:
Die PlayStation ist eine Videospielkonsole der fünften Generation, die Mitte der 1990er Jahre von Sony Computer Entertainment hergestellt wurde. Die ursprüngliche PlayStation war das erste Gerät der PlayStation-Reihe, die sich später zum Internet entwickelte Yaroze, PSone (eine kleinere und leichtere Version des Originals), PocketStation, PlayStation 2, PStwo (eine leichtere Version von PlayStation 2), PSX (nur in Japan), PlayStation Portable, PlayStation 3 und PS3 slim.
Zum 18. Mai 2004, fast zehn Jahre nach seiner Markteinführung, gibt Sony bekannt, dass es weltweit 100 Millionen Konsolen und mehr als 962 Millionen PlayStation-Spiele vertrieben hat.

Geschichte:
Die ersten PlayStation-Designs stammen aus dem Jahr 1986. Nintendo hatte mit dem < a href="/emulation/nintendo.html">Famicom an der Diskettenunterstützung gearbeitet, aber es traten Probleme auf. Seine wiederbeschreibbare magnetische Natur konnte leicht gelöscht werden (was zu einem daraus resultierenden Rückgang der Haltbarkeit führte), und die Discs waren der Gefahr der Piraterie ausgesetzt. Als die Details von CDROM/XA (einer Erweiterung des CD-ROM-Formats, die komprimierte Audioformate und visuelle Daten kombiniert, sodass gleichzeitig darauf zugegriffen werden kann) erschienen, war Nintendo daher interessiert. CDROM/XA wurde gleichzeitig von Sony und Philips entwickelt. Nintendo bat Sony, ein zusätzliches Modul für CD-ROM unter dem Namen SNES-CD zu entwickeln. Eine Vereinbarung wurde unterzeichnet, und die Arbeit begann. Nintendos Entscheidung für Sony lag an einer Person: Ken Kutaragi, die Person, die bald The Father of PlayStation genannt werden sollte, verkaufte Nintendo den Sony SPC-700-Prozessor, der 8-Kanal-ADPCM-Klangsynthese im < a href="/ emulation/super-nintendo.html">Super Famicom/Super Nintendo, und letzteres demonstrierte dank dieses Prozessors für die damalige Zeit beeindruckende Audiofähigkeiten.
Sony plante auch die Entwicklung einer Konsole unter seinem eigenen Namen, aber kompatibel mit Nintendo, bestehend aus einem Freizeitsystem, das es erlaubt, Super Nintendo gleichzeitig mit den Kassetten und auch mit einem neuen CD-Format zu spielen, das Sony erstellen wollte . Dies wäre das Format, das in SNES-CDs verwendet wird und Sony den Eintritt in den Videospielmarkt ermöglicht, zum Nachteil von Nintendos Dominanz.
Im Jahr 1989 sollte die SNES-CD auf der CES im Juni angekündigt werden. Als Nintendo-Präsident Hiroshi Yamauchi jedoch den ursprünglichen Vertrag von 1988 zwischen Sony und Nintendo las, stellte er fest, dass die getroffene Vereinbarung Sony das Eigentum an allen Spielen im SNES-CD-Format gab. Yamauchi war wütend; Da der Vertrag völlig inakzeptabel war, kündigte er heimlich alle Pläne für die Partnerschaft zwischen Sony und Nintendo für die SNES-CD. Anstatt ihre Partnerschaft am Tag der CES bekannt zu geben, betrat der Direktor der amerikanischen Tochtergesellschaft von Nintendo, Howard Lincoln, die Bühne und enthüllte, dass sie jetzt eine Partnerschaft mit Philips eingegangen seien und dass geplant sei, die gesamte Zusammenarbeit zwischen Nintendo und Sony würde aufgegeben werden. Lincoln und Minoru Arakawa gingen zum Hauptsitz von Philips in Europa, ohne es Sony zu sagen, und bildeten eine Allianz ganz anderer Art: eine Allianz, die Nintendo die volle Kontrolle über die Lizenzierung von Philips-Geräten geben würde. /p>
Die CES-Ankündigung war ein echter Schock. Das war nicht nur eine Riesenüberraschung (Sony hatte erst in der Nacht zuvor über den Namen des gemeinsamen Projekts unter der Marke Play Station entschieden), sondern wurde von vielen in der japanischen Geschäftswelt als fataler Verrat angesehen: Ein Unternehmen brüskiert einen anderen Japaner zugunsten einer europäischen Firma war absolut undenkbar.
Nach dem Zusammenbruch des gemeinsamen Projekts dachte Sony daran, die Forschung einzustellen, aber schließlich entschied sich das Unternehmen, alles, was gemeinsam mit Nintendo entwickelt worden war, wiederzuverwenden, um eine eigene Konsole herzustellen. Diese Entscheidung veranlasste Nintendo, Sony vor einem US-Bundesgericht wegen Vertragsbruch zu verklagen, und versuchte, ein Verbot der Vermarktung der Play Station zu erwirken, da Nintendo die Rechte an dem Namen besitze. Der Bundesrichter lehnte das Verbot schließlich ab. So wurde im Oktober 1991 das erste Modell der neuen Sony Play Station enthüllt; theoretisch wurden nur etwa 200 Maschinen dieses Typs produziert.
Ende 1992 einigten sich Sony und Nintendo darauf, dass die Sony PlayStation einen speziellen Anschluss für SNES-Spiele haben könnte, aber Nintendo wollte die Rechte an seinen Spielen behalten, um die Gewinne aus ihren Verkäufen zu behalten. Allerdings erkannte Sony damals, dass die Technik des SNES an ihre Grenzen stieß und die neue Konsolengeneration das Licht der Welt erblicken würde: Anfang 1993 begannen die Arbeiten, das Konzept der Play Station zu erneuern zielen auf die neue Generation von Soft- und Hardware ab. Sony hatte dann Gespräche mit Commodore, um die Technologie ihres Amiga CD32 zurückzukaufen, aber sie hatten keinen Erfolg. Am Ende wurde der SNES-Port entfernt, das Leerzeichen zwischen den beiden Wörtern wurde entfernt und die PlayStation war geboren.
Das PlayStation-Logo wurde von Manabu Sakamoto entworfen, der auch das Logo für VAIO-Computer von Sony entworfen hat.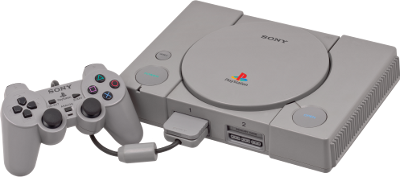 Technische Daten:
MIPS R3000A-Architekturchip, hergestellt von MIPS Technologies, kompatibler (R3051) 32-Bit-RISC mit 33,8688 MHz
Der Chip wird von LSI Logic mit Technologien von Silicon Graphics hergestellt. Der Chip enthält die Geometry Transformation Engine (Geometry Transformation Engine) und die Data Decompression Engine (Data Decompression Engine) .
Funktionen:
30 MIPS Rechenleistung
Busbandbreite bei 132 Mbit/s
4 KB-Anweisungscache
1 KB Cache-Speicher (nicht assoziativ, nur 1024 Byte SRAM)
Geometrie-Transformations-Engine
Diese Engine ist im Hauptprozessor enthalten. Dies bringt Vektor-Mathematikanweisungen, die für 3D-Grafiken verwendet werden.
Funktionen:
66 MIPS Rechenleistung
360.000 Rohpolygone pro Sekunde;
180.000 texturierte und beleuchtete Polygone pro Sekunde.
Sony hat Polygon Count offiziell angekündigt unter:
1,5 Millionen Rohpolygone pro Sekunde;
500.000 texturierte und beleuchtete Polygone pro Sekunde.
Diese Zahlen wurden für den Einsatz unter optimalen Bedingungen angegeben und sind daher unter normalen Bedingungen unrealistisch.
Datendekomprimierungs-Engine
Diese Engine ist in den Prozessor integriert. Es ist für die Dekomprimierung von Audio- und Videoinhalten verantwortlich. Das Gerät kann drei RLE-codierte Makroblöcke der Größe 16 × 16 decodieren und kann eine DCT ausführen sowie einen Makroblock der Größe 16 × 16 in RGB zusammenstellen. Externe Daten können über direkten Speicherzugriff übertragen werden. Es ist möglich, eine Matrix in TCD und mehrere zusätzliche Parameter umzuschreiben, jedoch wurde der interne MDEC-Befehlssatz nie dokumentiert.
Funktionen:
Kompatibilität mit MJPEG- und H.261-Dateien;
80 MIPS Rechenleistung
direkt mit dem Prozessorbus verbunden.
Grafikprozessor
Dieser Chip ist vom Prozessor getrennt und verarbeitet alle 2D-Grafiken, einschließlich 3D-Polygontransformationen.
Funktionen:
maximal 16,7 Millionen Farben;
Auflösungen von 256 × 224 bis 640 × 480 Pixel;
Bildspeicher einstellbar
unbegrenzte Farbnachschlagetabellen
24-Bit maximale Farbtiefe;
maximal 4000 8×8-Pixel-Sprites mit individueller Skalierung und Rotation;
gleichzeitige Hintergrundemulation (zum Scrollen);
Flache oder Gouraud-Schattierung und Textur-Mapping.
24 ADPCM-Kanäle
44,1

kHz

Abtastrate, 16 Bit, Stereo.
In 4-Bit-ADPCM codierte Samples (1/4 Komprimierungsverhältnis. Entspricht 2 MB 16-Bit-PCM-Sound, gespeichert in 512 KB RAM)
Wiedergabe von CD-Audio-Tracks
Speicher
Haupt-RAM: 2 MB;
Video-RAM: 1 MB;
ROM: 512 kB (BIOS-Größe)
Sound-RAM: 512 kB;
CD-ROM-Speicher: 32 kB;
System-ROM-Berechnung: 512 kB
PlayStation-Speicherkarten haben ein EEPROM mit einer Kapazität von 128 kB.
CD-ROM-Laufwerk
Funktionen:
doppelte Geschwindigkeit, mit einer Datenübertragungsrate von 300 kB/s (2x);
XA Mode 2-kompatibel;
CD-DA (CD-Digital-Audio).