Présentation :
La Nintendo 64, également connue sous les noms de code Project Reality et Ultra 64 lors de sa phase de développement, est une console de jeux vidéo de salon, sortie en 1996 (1997 en Europe), du constructeur japonais Nintendo en collaboration avec Silicon Graphics. Elle fut la dernière des consoles de cinquième génération à être sortie, en compétition avec la Saturn et la PlayStation.


Historique :
L épopée de la Nintendo 64 démarre le 23 Août 1993 avec l annonce du « Project Reality » : une collaboration de la réputée Silicon Graphics Industry avec Nintendo pour construire la prochaine console de salon de la firme. Sautant une « génération » Big.N veut directement produire une 64 bits. Howard Lincoln, alors vice président de Nintendo of America déclare en grande pompe que cette « collaboration avec SGI va permettre de sauter une étape en créant un produit de la prochaine génération » . Le ton est donné et la guerre contre les 32 bits de Sega et Sony déclarée. Nintendo en rajoute avec l annonce du prix de commercialisation de sa future console : 250 dollars, soit deux fois moins que le prix annoncé des machines concurrerentes. La presse s enflamme aussitôt et l on ne tarde pas à voir arriver les première images censées correspondre aux futures capacités de la machine.

Neuf mois plus tard (le 5 Mai 1994) Nintendo annonce que le « Project Reality » conservera le support cartouche. Les jeux seront développés sur des roms ayant pour taille 100 Mo de données. Un chiffre pour le moins restreint face aux capacités de stockage des compact-disques utilisés pour la Saturn et la PlayStation (équipées d un lecteur de CD-ROM ces machines peuvent puiser dans 650 Mo de données par disque). Pour Nintendo, le lecteur CD-ROM est non seulement trop cher, mais il handicape le jeu à cause des temps de chargement.. Au delà de ces nobles considérations Nintendo craignait tout particulièrement le piratage. Par ailleurs un projet de téléchargement des jeux était envisagé (le retour des bornes Disk Writer ?) : il fallait donc que les softs tiennent sur une taille « raisonnable ». Les premières difficultés apparaissent pour Nintendo : hormis Acclaim, aucun éditeur ne veut continuer sur cartouche dont les capacités de stockage sont jugées trop restreintes (comment faire mieux que les 32 bits avec 100 MO de données ?). Par ailleurs, avec les marges que Nintendo compte faire sur les ventes de ses softs, les éditeurs ont tout pour prendre peur. Big.N se retrouve donc rapidement seul contre tous. Une erreur fatale puisque qu elle amènera Nintendo à perdre les Final Fantasy (jusque là tous développés sur des machines Nintendo).

Le 5 janvier 1995 soit quelques semaines après la commercialisation de la Saturn au Japon, un communiqué de presse de la Silicon Graphics Industry déclare que les composants de la N64 (alors nommée « Ultra64 ») sont prêts. S ils sont supérieurs aux capacités de la Saturn et de la Playstation, la fiche technique n est pas renversante non plus, d autant que la 64 n est pas prévue avant un an. de quoi laisser le champ libre à Sega et Sony. Point positif, l objectif des 250 dollars devrait pouvoir être tenu. Un prix difficilement envisageable pour les concurrents. Hélas, malgré ces bonnes nouvelles, Nintendo annonce le 5 Mai 1995 que la sortie de l Ultra 64 est repoussée pour Novembre 95 au Japon et Avril 96 en Europe et aux Etats-Unis. Une nouvelle qui tombe au pire moment : tous les yeux seront tournés sur les machines de Sega et Sony lors de l E3 1995 !
Trois mois plus tard, Nintendo bombe enfin le torse et présente le pad de l Ultra 64. Grâce à son stick analogique il fait sensation. La mannette est conçue pour une meilleure maîtrise des environnements 3D. Elle sera une des clefs de la réussite de la console et de son plaisir de jeu. Par ailleurs, la mannette possède un espace prévu pour y insérer une carte mémoire. Nintendo reste le roi incontesté du paddle.
Lors du salon Shoshinkai (mois de Décembre) une démonstration de Super Mario (conçue par maître S.Miyamoto) envoie tout le monde valser. La baffe est lourde, très lourde. Les caractéristiques de la 64 avaient un peu déçu, mais le résultat à l écran laisse rêveur. La console est rebaptisée Nintendo 64. Profitant de l effet de surprise, Nintendo annonce discrètement un nouveau retard : la sortie officielle passe au 21 avril 1996. Les semaines passent et nouvelle catastrophe : le 1er février Nintendo repousse une énième fois la sortie de sa console. La date tombe au 30 septembre 96. Rien n est dit mais les jeux ne sont pas prêts : les difficultés à respecter la taille de stockage des roms pose de nombreuses dificultés aux développeurs. Finalement, la machine sort le 23 Juin 1996 au Japon. Seulement trois jeux sont disponibles : Super Mario 64 ; PilotWings 64 et Shogi Chess. Malgré la « faiblesse » du line-up la console créé l événement. Les files d attentes se multiplient et la N64 s écoule à 300.000 exemplaires. Un succès foudroyant. Une nouvelle fois, Nintendo peut dire merci à Mario et Miyamoto. Super Mario 64 s écoule en effet aussi vite que le nombre de machines vendues. Hélas, le peu de jeux disponibles viendra assez vite « calmer » les ventes de la N64. Certains joueurs allant même jusqu à revendre leur matériel par manque de nouveautés. Somme toute, après toutes les erreurs effectuées, et un maque flagrant d éditeurs tiers, la Nintendo 64 connaîtra une fort jolie carrière parsemée de jeux d anthologie : Mario 64 ; Ocarina of Time ; Wave Race ; Golden Eye ; 1080 ; Mario Kart ; Majora s Mask ; F-Zero et bien d autres encore (notamment les perles de Rare) feront les beaux jours des heureux possesseurs de la bécanne. Aujourd hui on peut dire que le support cartouche aura coûté beaucoup à Nintendo. S il fait la joie des impatients (no loading !) et rend la machine plus fiable que les 32 bits, les cartouches auront été responsables de bien des maux : retard de la machine ; perte des éditeurs tiers ; et surtout perte de Final Fantasy. Les jeux vidéo ne seraient sans doute pas ce qu ils sont aujourd hui si Nintendo était passé au CD-ROM.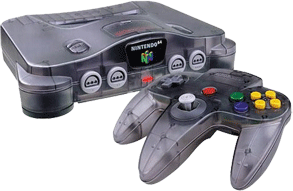 Spécifications Techniques :
Processeur : processeur Reallity Engine basé sur la technologie RISC MIPS R4300i 64 bits (version économique du R4000) cadencé à 93,75 MHz (Architecture MIPS). Le R4300i supporte les jeux d'instruction 32 et 64 bits du R4000, il ne possède qu'un seul pipeline (l'ALU et la FPU se le partagent) mais son efficacité est proche d'une instruction par cycle. Le R4300i possède 8 Kio de cache de données et 16 Kio de cache d'instructions (8 Kio pour le R4000).
Mémoire : 4 Mio Rambus DRAM (octets codés sur 9 bits, soit 36 Mib en tout, le 9e sert au contrôle de parité) cadencée à 250 MHz. La mémoire est unifiée, elle sert donc également de mémoire vidéo et de tampon sonore par exemple. L'Expansion Pack permet d'ajouter 4 Mio, pour avoir au total 8 Mio (72 Mib avec la parité), et ainsi permettre, si le jeu le supporte, de jouer en plus haute résolution avec des textures de meilleure qualité.
Bande passante du bus mémoire réelle / efficace : 536,4 Mio/s / 476,8 Mio/s.
Co-processeur : RCP, cadencé à 62,5 MHz. C'est le composant le plus important, toutes les données transitent par le RCP (qui sert également de contrôleur mémoire au CPU). Il intègre 2 microprocesseurs, le RSP et le RDP. Le RSP pour le son et les graphismes (opérations matricielles, transformations géométriques et éclairage, rasterization des polygones), il gère également le back-face culling et le volume culling. Le RDP pour le rendu de la liste d'affichage créée par le RSP. Il possède une unité de texture (fillrate théorique de 62 MTexel/s), avec filtrages (trilinéaire et antialiasing) et gestion du z-buffer.
Résolutions : 256 × 224, 640 × 480 entrelacée.
Polygones/sec : 150 000.
Couleurs : 32 bits RGBA avec système de lissage. Sortie vidéo : 21 bits.
Son : stéréo en 16 bits.
Cartouches : de 4 Mio à 64 Mio (32 Mib à 512 Mib).